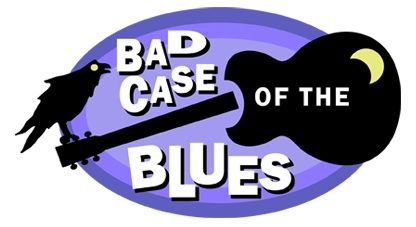 I think nothing is sadder than witnessing a guitar player breaking the neck of his treasured guitar. I've witnessed it once.
It was many years ago. He was in a band with me and we had just finished rehearsing. He decided to start spinning around in circles with the prized guitar held high over his head.
In one gut wrenching second, the guitar slipped out of his hand and crashed to the concrete floor, ending up in two splintered pieces. He wept.
How blue can you get?
This logo was designed with that scene in my mind except this was for a Pacific Northwest blues band.
Nothing says the blues better than a dark night, a broken guitar, a raven and a yellow crescent moon...and lost mojo.